BIOGRAPHY



NEWS


PICTURES



RELEASES



LYRICS



DISCOGRAPHY



DOWNLOADS



LINKS



E-MAIL

Buy Stone Temple Pilots Posters At AllPosters.com


Home
H E A D L I N E S

Stone Temple Brothers To Pilot Alien Ant Farm Album
March 11, 2003

Alien Ant Farm are about to find out how good Stone Temple Pilots' Dean and Robert DeLeo are at the producer type thing.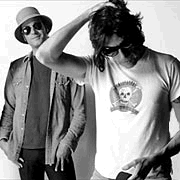 The DeLeos, whose production résumé is currently the big empty, will man the boards for the Southern California rock band's still-untitled follow-up to 2001's ANThology.

"Them never having produced a record was appealing to us because we figured that a great engineer and them combined [would make an amazing team]," Alien Ant Farm singer Dryden Mitchell said. "It seemed a little bit more exciting not knowing what to expect. Also, anyone can record a record, and [we thought] they were maybe more capable than some producers out there of getting some good songs out of us and being there for the project and not just overseeing all the work."

Signing on with the DeLeos was a leap of faith, but Alien Ant Farm were convinced the guys could pilot them through the record because not only are AAF longtime STP fans, they're also impressed that the band's decade-long recording career has focused more on albums than singles.

"We wanted musicians in there and people who were very aware of harmony," Mitchell said. "I'm sure there are a lot of producers who are great piano players and vocalists, but we wanted someone who fit that description and had also been on the band side of things. We didn't want someone saying, 'This is radio, this is radio,' and by the time you're done you have a bunch of little radio songs, which might not be the best thing."

As pleased as they are about working with the writers of hits like "Sex Type Thing," "Vasoline" and "Big Bang Baby," Alien Ant Farm's first choice was Jon Brion, who has worked with Fiona Apple and Badly Drawn Boy. The bandmembers also considered ex-Talking Heads guitarist Jerry Harrison, who has produced material for Live and No Doubt. But when they met, they didn't vibe with Harrison. Then somebody suggested the DeLeos.

"When we met them it just didn't feel like a meeting," Mitchell said. "That's the kind of recording environment that we wanted — like, having a good time while we're doing it and then when we're done [realizing], 'Whoa, we just finished a record.' "

Alien Ant Farm and the DeLeos have been in pre-production for two weeks and will work on songs for another two weeks before recording begins in Los Angeles.

"We've already decided what songs are going to be used," Mitchell said. "We're just going to work out the kinks and work on the lyrics a little more and then just rehearse in the last week so that we can be a little quicker in the studio."

If all goes well, Alien Ant Farm will have the album done by May for a fall release.

Last year, the DeLeos wrote a batch of songs with Glen Campbell, which may surface on his next album. Stone Temple Pilots are on hiatus while singer Scott Weiland works on a second solo record, but the band plans to reconvene later this year.

Article by Jon Wiederhorn for MTV.com

Alien Ant Farm
March 06, 2003

Robert and Dean Deleo have signed on to produce the new Alien Ant Farm album in Los Angeles. They have begun preproduction with the band and will start tracking in a few weeks.

From the Official Site
Alien Ant Farm Website

Happy Birthday Robert DeLeo!
February 02, 2003

Happy Birthday to bassist Robert DeLeo!

Scott Weiland Solo Due in First Half of 2003
January 18, 2003

Stone Temple Pilots frontman SCOTT WEILAND is busy recording his 2nd solo album, the follow-up to "12 Bar Blues," produced by Josh Abraham (Crazytown, Deadsy). Abraham described the album to Rollingstone.com as being more "artsy" than Weiland's efforts with Stone Temple Pilots.

From triplearadio.com

Weiland Creating a Monster
December 6, 2002

Scott Weiland has begun work on the follow-up to 12 Bar Blues, his 1998 solo debut, with producer Josh Abraham (Crazytown, Deadsy). Abraham describes the four completed tracks, recorded in late August at his Los Angeles studio, as more "artsy" than Weiland's efforts with Stone Temple Pilots, but not as far out as the singer's experimental first set.
"What I do is much more commercial than what Scott would ever do," Abraham says during a break from finishing the new Staind album. "But I think the combination could definitely be on the radio. It doesn't sound anything like STP, but it's definitely his vision of what he wanted to do."

Like the singer's first solo album, which mixed ambient jazz, bossa nova and tape-loop electronic rock, his second effort is heavily reminiscent of Scary Monsters-era David Bowie. The influence is greatest on "Drop That Baby," which Abraham describes as a trace of psychedelia melded with a heavy, melodic hook. "If Only I Could Fly" has an angelic, celestial vibe, with airy guitars reminiscent of U2's Edge, he says, while "Big Black Monster" is another trip into psychedelic rock. The fourth track is still untitled.

"He is a man of many voices," Abraham says of Weiland, whom he met when both were part of the Los Angeles super group the Wondergirls, which also featured Sugar Ray singer Mark McGrath, Orgy's Jay Gordon and the Cult's Ian Astbury. "For different moods and topics, you can hear him get into character like an actor. He has an angry voice, a sweet falsetto and a monotone voice, and it's really cool how it changes so much from song to song. You can't believe it's the same singer."

12 Bar Blues featured appearances from Sheryl Crow and Daniel Lanois, and Abraham expects some "superstar" guests to drop in when he and Weiland return to the studio in the spring. Prior to that, Weiland will preview material from the set at several charity events in February.

Article by Gil Kaufman for RollingStone.com

Michelle Branch To Work With STP's Weiland On Her Second Album
November 13, 2002

Coming off her recent team-up with Carlos Santana on the hit single, "Game Of Love," Michelle Branch is looking at collaborations of her own for her second album. Among the names in the mix--Stone Temple Pilots' Scott Weiland.

The 19-year-old singer-songwriter told LAUNCH, "Hopefully, it'll be out by the end of March. Scott Weiland is going to produce some stuff, Dave Navarro played on a track so far, there's a couple of different things. It's very exciting to be to, you know, have people whose records I have at home call up and say they want to be part of it. It's extremely exciting, and inspiring, and I feel really, really blessed that I'm able to work with all these people, it's, you know, hopefully, it'll sound good. The album is planned for a 2003 release.

"Game Of Love" can be found on Santana's current album, Shaman.

Article by Darryl Morden for Launch

Stone Temple Pilots' Weiland Has Confidence In Winona Ryder
November 11, 2002

Stone Temple Pilots singer Scott Weiland is confident that things will turn out OK for actress Winona Ryder, despite her recent felony convictions of grand theft and vandalism.

Weiland told LAUNCH that just because Ryder's in the public eye, it "doesn't mean the public owns her." He also thinks the best thing for her to do it get back to work. "You know, just keep on doing what she's doing--she's a great actress and uh, you know, I'm sure she, after all this huge ordeal, has realized that she made a couple of stupid mistakes and I doubt she will ever make that same mistake again."

The STP frontman appeared Thursday (November 7) at the House Of Blues in Los Angeles, for the Musician's Assistance Program Awards dinner and fundraiser.

Article by Darryl Morden for Launch

Stone Temple Pilots' Scott Weiland Talks About His Support Of MAP
November 10, 2002

Stone Temple Pilots' Scott Weiland talked to LAUNCH about his support of the Musician's Assistance Program (MAP), prior to his performance Thursday (November 7) for the third annual MAP Awards dinner fundraiser, at the House Of Blues in Los Angeles.

Founded in 1992 by musician and ex-addict Buddy Arnold and partner Carole Fields, MAP helps musicians seeking recovery from drug and alcohol abuse. Weiland spoke highly of the organization, and Arnold in particular.

"One time he even came up to me and said, 'Look, I don't think you're ready to stop shooting dope right now, so I think we ought to take you down to the methadone clinic and get you put on methadone.' And I thought that was really cool, coming from a sober guy. Unfortunately, methadone didn't work for me--it took a few months behind bars for it to sort of settle in for me--but, uh, the foundation's amazing, it's helped a lot of musicians."

Article by Darryl Morden for Launch

STP's Weiland, Jimmy Vaughan, Neville Brothers Perform At MAP Awards In L.A.
November 8, 2002

Stone Temple Pilots frontman Scott Weiland, guitar-slinger Jimmy Vaughan, and the Neville Brothers were among the performers at the third annual Musician's Assistance Program (MAP) Awards, held at the House of Blues in Los Angeles on Thursday (November 7).

MAP was founded in 1992 to help musicians in recovery from drug and alcohol abuse. Weiland, in recovery himself, was on hand to support L.A. scenester Bob Forrest, best known locally as leader of the late '80s alternative band, Thelonious Monster. For his dedication to MAP and commitment to others musicians seeking recovery, Forrest received the Buddy Award, named after MAP co-founder. musician Buddy Arnold.

Backed by some of the evening's house band players, Weiland covered Whiskeytown's "Houses On The Hill," and the Flaming Lips' "Waitin' For The Superman." Forrest followed, coming on stage for a version of Bob Dylan's "I Shall Be Released," with Weiland singing harmony on the chorus.

Forrest's honor was presented on tape by last year's Buddy Award winners, the Red Hot Chili Peppers, represented by singer Anthony Kiedis. The funny, sketch-like video also featured Forrest himself, attempting to direct Kiedis's speech.

The Stevie Ray Vaughan Award for sharing recovery through music and life was given to Ivan Neville by his father Aaron Neville, then the Neville family performed. Prior to the award, Jimmy Vaughan spoke of his late brother leading the way to their own respective recoveries, and played a version of "Six String Down," co-written by the Nevilles back in 1996 in memory of Stevie Ray Vaughan.

Other performers during the dinner ceremony included Dr. John, Daniel Lanois, Gary LeMel, and Martyn LeNoble. The event was hosted by actor and sometime-singer Robert Downey Jr.

Recording Industry Association of America chairman/CEO Hilary Rosen was also honored for advocating MAP's work.

Article by Darryl Morden for Launch

Happy Birthday Scott!
October 27, 2002

Happy Birthday to Scott Weiland who turns 35 today!


Stone Temple Pilots Rock Crowd At Free Tampa Concert
October 10, 2002

Stone Temple Pilots rocked a crowd of 6,000 during a free concert on Wednesday (October 9) in the parking lot of Tampa, Florida's Sundome.

The concert, which began around 5:30 p.m., featured a 12-song set of "Crackerman," "Vasoline," "Big Bang Baby," "Wicked Garden," "Big Empty," "Dead And Bloated," "Hollywood Bitch," "Trippin On A Hole In A Paper Heart," "Interstate Love Song," "Plush," "Down," and "Sex Type Thing."

The concert was part of the Nissan Z Tour series, promoting its Z roadster and featuring day-of-the-show announcements of "secret" free concerts throughout the U.S. Other performances have included Stone Temple Pilots in Miami, and Counting Crows and the White Stripes, both in New York City.

Article by Darryl Morden for Launch

Robert DeLeo Interview
October 8, 2002

Matt caught up with Robert during the bands Fall 2002 tour. The interview took place on the second night of the Aerosmith tour at the AmSouth Amphitheatre in Nashville, TN.

Interview with Robert DeLeo - October 04, 2001

Matt: How is everything going for you guys?
Robert: Everything's going great, it's going well.

Matt: You guys last toured in April, so what have you been doing since the tour?
Robert: Working on other music, with other people. Dean and I have been producing some records and trying to get some people signed. We've also been playing with some of our idols.

Matt: You recorded some music with Glen Campbell right?
Robert: Yeah, did some music with Glen Campbell and some other bands.

Matt: Have you guys started recording a new STP album?
Robert: No. We haven't done that yet. We've just kinda been taking time off away from each other. It's been healthy time.

Matt: How did you guys get on the Aerosmith tour? I know back in 1996 Steven Tyler and Joe Perry joined you guys on stage at Madison Square Garden, so how did you get on this tour?
Robert: I actually was invited out to write with them back in 1995 and actually became friends with them and I gotta say, Aerosmith as people are really, really nice guys. They are really good people and I love those guys dearly and they are part of the reason why we are doing what were doing. I guess they asked us to come out which was a big honor. It's a good bill.

Matt: Are you guys doing any songs together?
Robert: Were not, we haven't worked that out yet. Tonight's the second show so were just kinda getting it together so to speak.

Matt: If you could play with them, what songs would you like to go out and jam with them on?
Robert: Oh man it's like there are so many songs. I would have to say anything off of Rocks which was probably my favorite Aerosmith record. If anyone wants to rock, get Rocks. It's a great record, great guitar record.

Matt: After this tour wraps up in a month, what are your immediate plans? Anything in the future?
Robert: I don't know yet. I'm probably going to finish moving into my house. I was living out of boxes up until I left, so I'm going to continue moving in.

Matt: A lot of fans want to know why you guys play a greatest hits setlist and why there are very little or no songs off of Shangri-La Dee Da, No 4, and Tiny Music.
Robert: You know it's hard because I think when you're doing your own show you're more free. We played in Chicago the other night and we did two hours and we did I think twenty songs. We did stuff off of Shangri-La Dee Da and No 4. I think when you're in this situation and you're trying to compete with a band as great as Aerosmith, you gotta pull out the stuff that everybody's familiar with. I think there is a certain aspect of being an opening band that you're kinda perceived as an opening band, no matter who you are.

Matt: For your club shows like Chicago, and Asbury Park will you be adding some obscure songs into the set?
Robert: Absolutely, yeah absolutely.

Matt: Have you ever considered letting some of your fans pick a song?
Robert: Sure.

Matt: I know at a lot of shows, people makes signs and want to hear "Still Remains" or something like that.
Robert: Yeah, we played "Still Remains" the other, which is one of my favorite songs we've written. But yeah we will go into stuff that people want to hear.

Matt: Will you guys be doing a rotating setlist?
Robert: Yeah that's kinda what were doing with these shows with these guys. Were gonna probably rotate the songs around a little bit.

Matt: Have you ever thought of having a traveling musician, so you'd be able to play other songs like "Adhesive" and others that are more challenging to play live?
Robert: I don't know. I think we will always just find a way to do those songs between the four of us. That's kinda why we do the acoustic thing so we can break it down. Those songs can't really be done electrically so well break something down and maybe do a more intimate version of the song. We've done that with "Wonderful" and you know…I can't think of the name of the song right now.

Matt: Black Again?
Robert: Yeah we've done "Black Again" like that. I think that works pretty cool. It gives people a different insight on the song. It's kinda the way the song was written ya know.

Matt: When you guys write a song, do you know that a particular song will be a hit? Like when "Interstate Love Song" was written, did you know it was going to be a hit, or do all songs have an equal chance?
Robert: They all have an equal chance. It's really not up to yourself to really say what songs will be a hit while you're writing it. You wanna give everyone of your songs a definite equal chance.

Matt: When creating a song, do you guys make the music with the lyrics to go with it? Or do you write the lyrics first, then try to figure out what sort of instrumental arrangement goes with it?
Robert: Most of the time the music comes first. Then maybe a melody and lyrics go on after that. That's usually the last thing that goes on, are the lyrics.

Matt: Are you still working on your solo album?
Robert: Yeah, I am.

Matt: How is it coming along?
Robert: Great, great. I'm really, really excited about that.

Matt: Is that something you want to release one day?
Robert: I had to take some time off with moving. I basically, what I'm doing, I bought myself a Pro Tools setup. I've been recording these songs in my house. I set up the drums in my entryway, and I recorded everything, the vocals in my linen closet, the guitars in my bathroom. It's been really, really fun. It reminds me of a 70's record. You know how a 70's record sounds. Its been really, really fun. And these are all songs that really didn't quite make it to STP records. The songs mean a lot to me, but I'm really excited about that.

Matt: In the past there was talk about releasing a documentary on the making of Shangri-La Dee Da. Will that ever happen?
Robert: I think eventually yeah. I think that eventually it will see the light of day. I think just for now, you know theres other important things to handle right now. But yeah we definitely wanna get that out, theres some really cool stuff on there too.

Matt: What was your most embarrassing moment that you've had on stage?
Robert: I'd say my pants ripping. My pants ripping with no underwear.

Matt: Out of all the younger acts out today, who are you most impressed with?
Robert: I like the Vines. I like the Shins. I'm glad to see there is some guitar-orientated music coming back. I think that's really what excites me. I like everything. I don't listen to a lot of radio so to speak. I can't think off hand right now, but I do like some music out right now. I mostly gear myself towards 60's and 70's music just because that's what I grew up on.

Matt: What is the craziest thing a fan has done?
Robert: I don't know, I can't count them all. It's just a strange trip every day.

From the Official Site

Stone Temple Pilot's Weiland, Neville Brothers, Jimmie Vaughan Set For MAP Awards
September 28, 2002

Stone Temple Pilots' Scott Weiland will make a rare solo performance as part of this year's MAP Awards, taking place November 7 at L.A.'s House Of Blues. The event supports the Musician's Assistance Program, which provides solutions to drug and alcohol addiction within the music industry.

The night will honor the Neville Brothers' Ivan Neville, former Thelonious Monster frontman Bob Forrest, and Hilary Rosen, chairman and CEO of the Recording Industry Association Of America (RIAA). The Neville Brothers and Forrest will also perform, as will Jimmie Vaughan, Dr. John, Gary Le Mel, Daniel Lanois, Billy Childs, and Martyn LeNoble.

Robert Downey Jr. hosts.

Article by Neal Weiss for Launch

Stone Temple Pilots' Weiland Hit With Divorce Filing From Wife
September 25, 2002

The wife of Stone Temple Pilots singer Scott Weiland filed for divorce on Monday (September 23) in Los Angeles Superior Court, citing irreconcilable differences in a petition for dissolution of marriage.

The couple were married on May 22, 2000, and separated on September 19. Mary Weiland has asked for legal and physical custody of their two children, Noah, who is almost 2 years old, and Lucy, just 2 months old, with supervised visits for the rock singer. She has also asked that separate and community property and assets be determined at a later date.

Stone Temple Pilots currently have tour dates scheduled for the end of September throughout October. In August, singer Weiland had posted on the band's official website, "Life is good and I'm hoping to start a new STP record soon. Otherwise...it's been a pretty uneventful year in STP-world, and I'm bored."

Article by Darryl Morden for Launch

Happy Birthday Dean!
August 23, 2002

Dean DeLeo is turning another year older today and has hit 41! Happy B-Day Dean!

STP To Open Aerosmith Show
August 9, 2002

STP has been added to the October 2nd Aerosmith show in Maryland Heights, MO! Tickets for this event go on sale on August 10th at 10am through Ticketmaster. All the information is available below.

Aerosmith with Stone Temple Pilots
October 2, 2002 - 7:30PM Central
UMB Bank Pavilion Maryland Heights, MO

Ticket Prices:
On sale August 10, 2002 - 10:00AM
Lawn : $ 40.00
Lawn - Day of Show : $ 42.00
Reserved : $ 70.00
Reserved - Day Of Show : $ 72.00
Reserved : $ 80.00
Reserved - Day Of Show : $ 82.00

Buy tickets here

Scott Weiland Audio Message
August 8, 2002

Mr. Weiland has left a new message for the website. He says that he and Mary are very happy about Lucy's birth and that he wants to start the new STP album soon.

Listen by clicking here

Scott Weiland: The Producer
August 6, 2002

Recently, Scott Weiland helped produce the album "Break Your Silence" by a band called Cinder. Not only did he co-produce, but he also lends his vocals on the album.

Brief Bio:
It's not often a band has some of the music industry's most in demand people clamoring to be involved with their debut album. Cinder has not wasted this advantage on studio tricks or over-stuffed production. "Break Your Silence" is instead 11 songs ranging from the hardest of rock to the sweetest of melodies while retaining a consistent personality and real sonic integrity. "Break Your Silence" features production and vocal collaboration by Scott Weiland of Stone Temple Pilots fame, Jay Baumgardner ( Papa Roach, Drowning Pool), John Kurzweg (Creed, Puddle of Mudd) and was mixed by Andy Wallace (Staind, Limp Bizkit, System of a Down).

From the Official Site

Stone Temple Pilots' Scott Weiland And Wife Have A Baby Girl
July 26, 2002

Stone Temple Pilots singer Scott Weiland and wife Mary welcomed their new daughter Lucy Olivia Weiland into the world on Saturday (July 20).

Born at 9:17 a.m., she weighed 7 pounds 14 ounces and was 19 1/2 inches long. The Weiland family already has a son, Noah.

In other STP news, the band will appear at the San Diego Street Scene in downtown San Diego on September 6. The band kicks off the 19th anniversary of the city's annual three-day festival and music and the arts. Tickets are available through the Street Scene website (street-scene.com)

In addition, the band will play at the California Motor Speedway in Fontana, California on September 7 as part of the Harley-Davidson 100th Anniversary Open Road Tour. The Doors, also scheduled to appear at the raceway, hope to record new songs with various singers, including Weiland.

Article by Darryl Morden for Launch

The Doors To Record With STP's Weiland, Creed's Stapp, & Cult's Astbury
July 7, 2002

The reunited Doors plan to record new material for a future album release, featuring vocal and lyric contributions from the lead singers of Stone Temple Pilots, Creed, and the Cult.

Doors keyboardist Ray Manzarek told LAUNCH. "We're going to be sending out the instrumental version of the songs to a couple of different singers and poets and see what they can put to it," he said. "Like, Scott Weiland's interested in doing some stuff, and maybe Scott Stapp and certainly Ian Astbury. And Jim Carroll will be writing some poetry for us, too, so it'll be spread around."

The Doors recently announced an appearance at the California Motor Speedway in Fontana, California, for the September 6 date of the Harley-Davidson Open Road Tour. The Cult's Ian Astbury will handle vocals. Manzarek and Doors guitarist Robbie Kreiger explained to LAUNCH how Astbury was recruited for the concert.

"Well, he was on the VH1 show with us and a bunch of other guys were, too. And it just so happened that Ian was available, y'know? Everybody else was touring, everybody else has got something going on," Manzarek said.

Kreiger added, "Plus Ian is a friend of our manager, Danny Sugerman. And Danny's been trying to get us together with Ian for years. Finally happens."

Manzarek continued, "Yeah. It's a logical fit. It's very exciting and a very logical fit. And he'll bring the requisite passion to the stage, so we're looking forward to it."

Article by Darryl Morden for Launch


Check out old News.