DeLeo Talks To Orlando Sentinel
December 29, 2001

The president urged Americans to go about their lives after Sept. 11, but it hasn't been so easy for Stone Temple Pilots' bassist Robert DeLeo.

After an Orlando stop for a New Year's Eve performance at Hard Rock Live, Stone Temple Pilots is headed to Salt Lake City for a prestigious gig at the Winter Olympics.

DeLeo doesn't want to go.

"I have to be honest with you. After Sept. 11, I didn't really want to do it anymore," he says by phone from his home outside Los Angeles. "I just didn't think that was a good place to be. But, you know, hopefully they will have enough security to keep everything intact."

Although DeLeo's sense of security has changed since the attacks on the World Trade Center and the Pentagon, he isn't convinced that most people have a new attitude.

"I drive around L.A. now and it's amazing how we forget so quickly about what has happened. People are back to cutting you off in traffic and doing whatever they want to do. I think everyone takes what he [President Bush] said as a signal to ignore or forget what happened."

On a business level, the attacks forced STP to cancel roughly five dates this fall on the Family Values Tour, a package show with Staind, Linkin Park and Static-X.

"Understandably, I don't think parents wanted their kids in a large arena full of people, so we were very affected by it. I think this country has almost lost a sense of our innocence.

"I personally have lost it. When you see those black-and-white images of World War II, it seems so long ago and far away. When something like this happens, it's real and it's an example that it can happen. I didn't think I'd ever see that in our lifetime."

In addition to the disruption of world events, Stone Temple Pilots is working its way through yet another internal crisis. Lead singer Scott Weiland was arrested in November on a domestic battery charge after an alleged fight with his wife at a Las Vegas hotel.

According to police reports, Weiland pushed his wife against a wall and stepped on her after she tried to keep him from leaving the room to pick up a prescription. Weiland said the prescription was for a torn cartilage in his knee.

The latest incident comes after Weiland was sentenced to a year in prison in 1999 for a probation violation stemming from drug possession charges.

It's the latest story in a saga that already has enough twists and turns to quicken the pulse of any Behind the Music producer. DeLeo, 35, cautions that the final chapter is yet to be written for one of the few remaining bands of the early 1990s rock resurgence.

"I don't think we've quite come out the other end yet," he says. "There are still things we're all dealing with."

DeLeo notes that performing with a crop of nü-metal bands on the Family Values Tour opened his eyes to the notion that STP is ready for a career transition.

"We took on that tour in hopes of reaching a broader audience, meaning younger people whose older brothers and sisters have our records."

Unfortunately, the ambitious scope of the band's Shangri-La Dee Da didn't always fit the harder-edged sensibilities of the audience. Nor does DeLeo feel that the label did enough to promote the album.

"Whenever we put a record out, I always think it's our best record yet. I always feel goofy saying that, but so much time has gone by since we did this album, I really do feel like it's our best and it's been ignored by our record company.

"On the tour, it was tough to play album tracks off a record that people don't know, so I think it went over people's heads. You're playing for 14-year-old boys who are asking whether we're gay or not. It's really frustrating that you have to resort to a greatest-hits set.

"Playing that for eight weeks, it wears on you. After a while, your heart really isn't in the place it should be."

DeLeo envisions a tour that would allow the band, which also includes guitarist Dean DeLeo and drummer Eric Kretz, to play more intimate venues. He also would like to revisit songs such as "Wet My Bed," "Pretty Penny," "And So I Know" and "Lady Picture Show" in new arrangements.

"I think we have been in transition for the past year or two," DeLeo says. "What do you do when you outlive the scene you were with?

"I think we've been a little misunderstood, musically speaking. We're not just a rock band. There's a lot of different textures on records that make this band really special.

"The biggest compliment is when people come up and say, 'I really dig your songs.' The songs are going to last, and this band has always been about songs."

Whatever the direction, fans will have to wait to hear a new batch of songs. DeLeo says that he wants a break from the band after the Olympics, to work on a solo album and rekindle his enthusiasm for STP. Still, he would consider reuniting for a tour next summer.

"It's a very large commitment to think about another STP record, and I don't know if I have it in me right now," he says. "You don't want to get back into something you don't want to do, especially when it's music with other people. You have to want to do that."

Article by Jim Abbott for Orlando Sentinel

Weiland Pleads Guilty To Battery
December 21, 2001

Stone Temple Pilots' frontman Scott Weiland pleaded guilty to domestic battery Wednesday (December 19) in Las Vegas Justice Court, stemming from an incident involving his wife last month.

Counsel for the singer struck a plea bargain where the case would be dismissed if there were no further incidents in the next six months, and if the 38-year-old singer completes 26 counseling sessions during that time, Associated Press reports.

"We didn't want to put his wife through [testifying], and counseling doesn't hurt him," said Weiland's attorney, David Chesnoff, to AP.

Weiland was arrested after fighting with his wife Mary in a room at the Hard Rock Hotel on November 19. According to the police report, the couple "had a verbal argument over prescription medication...In an attempt to stop Scott from leaving the room, Mary sat in front of the door...Scott became physical when he physically removed Mary from in front of the door. He did this by forcefully grabbing her arms and moving her to the right of the door. He then pushed Mary against the wall several times. Scott then left the room. As the result of the altercation, Mary had some bruising on her left bicep as well as her right bicep."

Article by Neal Weiss for Launch

Scott's Quote Of 2001
December 20, 2001

"Ten years ago, you were probably too young to think for yourself. God and the devil. He's in the den, motherfucker." –- Stone Temple Pilots' Scott Weiland in response to this statement from an Alternative Press interviewer: "Ten years ago, I would not have said the sentence, 'That Stone Temple Pilots album is really good.' But Shangri-La Dee Da is a finely tempered, solid rock album."

DeLeo Guest On Morissette's Under Rug Swept
December 13, 2001

Stone Temple Pilots' Dean DeLeo is among the guest musicians who will appear on Alanis Morissette's forthcoming Under Rug Swept, due in stores on February 26. Other guests include Red Hot Chili Peppers' Flea and Meshell Ndegeocello.

Article from Live Daily

Interstate Love Song (Acoustic) MP3 is Up!
December 10, 2001

These MP3s are from the Y100 Acoustic Sonic Session that STP performed on October 22, 2001.

Click here to download 'Interstate Love Song'
Click here to download 'Black Again'
Click here to download 'Revolution'

The MP3s are .zip files because Tripod won't let you download MP3s directly. To unzip use WinZip or other unzipping program.

Stone Temple Pilots To Play Salt Lake City 2002
December 10, 2001

Stone Temple Pilots and many other bands are booked to play the Winter Olympics in Salt Lake City, which starts February 8 and runs through February 24. The Olympic Organizing Committee is planning 16 nightly concerts in the Olympics Medal Plaza.

The first performance will be February 9, with the Dave Matthews Band kicking off the string of concerts, which will be broadcast on NBC as part of its coverage of the Winter Olympics. A full lineup announcement is scheduled for Tuesday (December 18) in Salt Lake City.

Article by Darren Davis for Launch

STP 2002 Calendar
December 5, 2001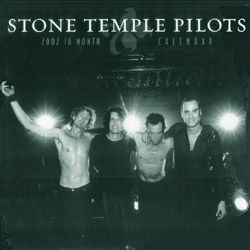 STP has a 2002 calendar that has some pretty bitching pictures of the band performing live. You can pick it up at 123Posters.com

Also be sure to download Scott Weiland's cover of Depeche Mode's 'But Not Tonight' at Below Empty. The song is featured on the soundtrack for Not Another Teen Movie.