Revolution Benefit Single
October 31, 2001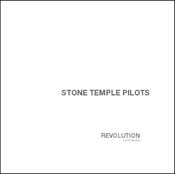 Atlantic recording group Stone Temple Pilots have recorded their acclaimed version of The Beatles' classic "Revolution" for a special benefit single. The band will be donating all of their record royalties and Atlantic Records will be donating all of its profits from the sale of the single to the Twin Towers Fund (www.twintowersfund.vista.com), which provides assistance to or on behalf of the victims and families of victims of the World Trade Center disaster. The Enhanced CD Single will arrive in stores on November 27th.

Stone Temple Pilots first performed "Revolution" on October 2nd as part of the TNT television special, Come Together: A Night For John Lennon's Words and Music, Dedicated To New York City and Its People. On October 6th, the band entered New York City's Avatar Studios to record their electrifying rendition of Lennon's still-provocative anthem. The "Revolution" Enhanced CD Single will include the self-produced new recording, as well as exclusive behind-the-scenes footage of the recording session.

"Revolution" is scheduled to impact at Rock and Alternative radio outlets nationwide this week. In addition, a video of STP's performance at Come Together has been made available to all video outlets, including MTV, MTV2, and VH1.

Stone Temple Pilots' most recent Atlantic album, the RIAA gold-certified SHANGRI-LA DEE DA was released on June 19th, 2001. The band is currently on the road headlining the Family Values Tour 2001, alongside Staind, Linkin Park, and Static X.

SHANGRI LA DEE DA follows STP's four previous Atlantic releases: the RIAA platinum-certified No. 4 (1999), the double-platinum TINY MUSIC: SONGS FROM THE VATICAN GIFT SHOP (1996), the 6x-platinum PURPLE (1994), and the 7x-platinum debut, CORE (1992). The band has sold more than 20 million records worldwide.

In Stores November 27

From Atlantic Records

Philly Sonic Session
October 28, 2001

STP played a 'Sonic Session' for Y100 Philadelphia recently and performed acoustic versions of 'Black Again', 'Interstate Love Song', and 'Revolution'. I am going to try and encode them into MP3s in the coming week. Wish me luck!

Happy Birthday Scott!
October 27, 2001

Happy Birthday to Scott Weiland who turns a very healthy 34 today!

Family Values Still Mixes It Up
October 24, 2001

Mixing it up has been the trend in Korn's Family Values tour. They mixed rap and metal on the first tour with themselves and Ice Cube sharing the stage. It is now Family Values Version 3 and although Korn are not on the tour they still have an impact on the line-up. To change it up they have brought it Stone Temple Pilots, mixed with the electro-metal stylings of Static X, the angst rock of Staind and the rap rock fusion of Linkin Park. Like Robert DeLeo of Stone Temple Pilots mentioned, most of the fans on the tour where eight years old when their first album came out, so they are there to gain some attention from the youngsters. DeLeo also feels that they have a style of music to represent on the tour, "I think rock and roll is something that is really necessary, really important, and everyone has their own version of it and what is cool about this tour is there are five different versions of it."

From MuchMusic.com

STmothafukinP
October 20, 2001

Please welcome the newest STP website, STmothafukinP

STP On Howard Stern
October 18, 2001

STP will be the special guests on the Howard Stern Show on October 26th. Be sure to check it out!

Stone Temple Pilots Slam Rap Rockers At Family Values Stop
October 16, 2001

ROSEMONT, Illinois — The 2001 Family Values Tour boasts two acts — Linkin Park and Staind — with triple-platinum albums currently in the Billboard top 10, though neither group is the headliner. That distinction goes to Stone Temple Pilots, who met the challenge at the tour's second stop Friday, at the Allstate Arena near Chicago.

Led by Scott Weiland, Stone Temple Pilots played like a band with something to prove to the young crowd of some 15,000 fans, which — nearly a decade after the release of their debut album, Core, and in an era dominated by rap-rock and nü-metal — they do.

The quartet wasn't above using borrowed star power to their advantage, bringing Richard Patrick of Filter onstage for an explosive version of that band's 1995 hit, "Hey Man, Nice Shot."

Weiland, who emerged in a priest's collar but played most of the set shirtless, took several apparent shots at the other bands on the bill. "F--- nü-metal!" he screamed before launching into the Pilots' 1994 hit "Big Empty." "How 'bout rock and roll?"

One song later, in a screeching tirade seemingly directed at Linkin Park, Weiland said, "I ain't no motherf---ing rapper! But I got one thing in common with every one of you [fans]: rock and roll!"

As if to make clear just where the band is coming from, STP later covered Led Zeppelin's "Dancing Days."

Now touring in support of its fifth album, Shangri-La Dee Da, the quartet has plenty of its own hits to draw on, of course. Friday's set included such familiar fare as "Creep" and "Trippin' on a Hole in a Paper Heart."

Read the rest of the article here.
Article by Anders Smith Lindall for sonicnet.com

Stone Temple Pilots Speak About American Tragedy
October 11, 2001

Stone Temple Pilots aren't letting the state of the world affect their tour plans. The band is set to embark on the Family Values tour tomorrow (October 11) in Cleveland with Staind, Linkin Park, Static X, and Deadsy.

Meanwhile, "Hollywood Bitch," STP's current single from Shangri-La-Dee Da, is at Number 25 and climbing up the Billboard Modern Rock chart.

Stone Temple Pilots singer Scott Weiland talked to LAUNCH about how America has been lucky up to now. "We in America are just experiencing a tragedy this extreme for the first time, really," he said. "Although mankind in general and the overall society of planet earth has suffered many horrible tragedies."

Article by Darren Davis for Launch

Join The STP Street Team
October 10, 2001

STP is looking for a group of fans from the US to form an Official Street team. Are you interested? Then email matt@stonetemplepilots.com and they will send you the information you need.

From the Official Site

Stone Temple Pilots Remember John Lennon
October 09, 2001

Today (October 9) marks what would have been John Lennon's 61st birthday. In the years between his birth in 1940 and his death in 1980, Lennon became an icon not only in music but in pop culture as well. As a member of the Beatles and as a solo artist, Lennon's music has gone on to influence generations of musicians, with his belief in world peace and his "love one another" philosophy now woven into the world's moral tapestry.

Last week (October 2), a number of artists and entertainers--including Billy Preston, the Isley Brothers, Lou Reed, Craig David, Cyndi Lauper, Dave Matthews, Stone Temple Pilots, Marc Anthony, Alanis Morissette, Shaggy, Moby, Natalie Merchant, Nelly Furtado, Shelby Lynne, Yolanda Adams, Dave Stewart of Eurythmics, Rufus Wainwright, Lennon's son Sean Lennon, Dustin Hoffman, Ben Stiller, James Gandolfini, Edie Falco, Julia Stiles, Leelee Sobieski, Steve Buscemi, Tim Roth, and Kevin Spacey--paid tribute to Lennon with Come Together: A Night For John Lennon's Words & Music at New York's Radio City Music Hall. Lennon's message of peace and solidarity took on an especially new meaning in light of the September 11 terrorist attacks on the U.S.

Lennon's widow Yoko Ono was asked backstage at the tribute about plans to commemorate her late husband's birthday, and she replied, "Well, right now I'm just focusing on this concert, which is very important for New York City and its people, and let me think about it later, after that."

Stone Temple Pilots singer Scott Weiland, who was at the Come Together: A Night For John Lennon's Words & Music event, said Lennon's influence is still felt today. "I think that a lot of the ideas that he stood for--his political ideas, his social ideas, his ideas of just sort of the brotherhood of mankind, and the idea of love--every time there's...something new happens, every few years his music just continues to be relevant no matter what decade it is, no matter what year it is, no matter what millennium it is. Those ideas will always be important as long as people feel that love and respect are important."

Ronnie Spector of popular '60s girl group the Ronettes knew Lennon from the early '60s until his death in 1980. Spector told LAUNCH that people like John Lennon are a rare breed. "He was one great songwriter-lyricist," she said. "There will never be anyone like him, and I was right because I've waited all these years, you know, and there's never been another John Lennon."

Article by Sue Falco and Darren Davis for Launch

New Pictures
October 9, 2001

Added two more pictures from the Lennon special.






Added more links to Releases section. Also more pictures.

Stone Temple Pilots See Lennon's 'Revolution' In New Light
October 3, 2001

Stone Temple Pilots' performance of the Beatles' "Revolution" was one of the highlights of
Come Together: A Night For John Lennon's Words & Music Tuesday night (October 2) at New
York City's Radio City Music Hall. LAUNCH asked Stone Temple Pilots singer Scott Weiland
about the choice of the song and its significance in light of the September 11 terrorist attack.
"Well, it was our choice," he said. "We chose the song actually about a month and a half ago
while we were on tour in Europe. And we had no idea what was going to happen--the events
that would take place in America. It seems that now it's almost... It's very fitting in a spooky sort of a way. Our real decision for picking 'Revolution' was simply because it rocks."

Fans of Stone Temple Pilots can see the band's version of "Revolution" when Come Together: A
Night For John Lennon's Words & Music re-airs Thursday (October 4) at 11 p.m. ET on TNT.

Article by Darren Davis for Launch

Lennon Tribute
October 2, 2001

I don't know if everyone saw STP playing in the Lennon tribute, but there cover of 'Revolution' was freakin' awesome. If you missed the show it will play again later this week and month. Check MusicStation for listings.